vCita Appointment Scheduling Website
Have you finally taken the plunge and opened your own nail or tanning salon? Are you working hard getting your new coaching business off the ground?
You need time to turn these dreams into a profitable reality. An appointment website lets you save time and avoid no-shows so that you can grow your business.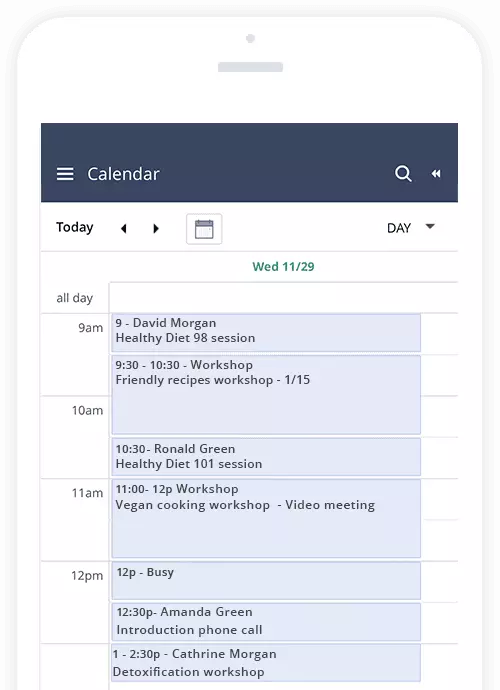 See your calendar fill up
Let clients schedule appointment and book services anytime and from any device
Say goodbye to no-shows
Reduce dropped appointments and save time with automated confirmations and reminders
Simplify payment collection
Accept Credit Card & PayPal payments, create and email invoices
Create your own appointment scheduling website today
All the powerful online scheduling features you need
What Is An Appointment Scheduling Website?
When you run a service-based business, calendar planning and management takes a lot of your valuable time. Customers and clients call or email for a session or appointment, and you have to figure out when to book them in. When someone requests a last-minute booking or an employee calls in sick, scheduling can be even more complicated and time-consuming.
Appointment scheduling websites are customizable platforms that let clients book, cancel, and reschedule their sessions online. You can place them on your website, Facebook page, Instagram profile, and anywhere else that supports the appointment website plugin.
How Do I Create An Online Appointment Website?
One of the biggest benefits of online appointment websites is that you need zero coding knowledge! After logging into the dashboard, you enter details about when people can book appointments, based on staff availability.
vCita scheduling software offers the following options for creating a scheduling website that manages your company calendar 24-7.
1) With vcita's landing page builder
With LiveSite, you can build a stylish and mobile-friendly web page in minutes. You don't have to be (or hire) a web developer to create and customize a landing page that meets the needs of your business and your brand.
LiveSite is more than a 'website with a widget.' It is designed to encourage visitors to take action. Features include:
Booking buttons that direct your clients to schedule an appointment, make a reservation, schedule a meeting, and more.
A calendar that lets site visitors check your availability, which reduces the likelihood of double booking.
Built-in forms that allow and clients to book, cancel, or reschedule appointments as well as pay for services and share files with you. Once booking is complete, or changes made, the vCita appointment system will automatically send you and the clients a confirmation email as well as text message reminders.
A private client portal that encourages ongoing engagement. Returning clients can review past services and communications.
Professional in appearance, SEO-friendly, and extremely easy to use, a LiveSite can generate the new leads and opportunities your company needs to grow.
2) With vcita's Facebook plugin
Small businesses everywhere use Facebook to grow their client base. vCita's appointment website plugin for Facebook lets you add a 'book an appointment' button to the top of your business Facebook page.
To integrate your appointment system software, you only need to log into your vCita account and take two steps:
Change the default call-to-action "Book Now"
Integrate your website scheduling software with your Facebook account
In less than a minute, current and prospective clients will be able to schedule appointments and meetings directly from your company's Facebook page.
3) With vcita's WordPress and Wix plugins
WordPress and Wix are two of the most popular website building and hosting platforms, and vCita has appointment website plugins for each one. Each one is fully customizable, takes only moments to set up, and fits any WordPress or Wix design or theme.
Plugins are available for:
Appointment booking: Display a calendar or add a 'Schedule' button. After viewing your services, prices, locations, and other details, clients can schedule a meeting or appointment without clicking off the website. By syncing with your existing calendar, the scheduling plugin will display up-to-date availability for you and your staff.
Online payments: Stripe and Paypal integrations let clients pay a deposit or prepay for the entire service. No existing merchant account is needed!
Contact form builder: Create custom forms and add them to your site. You can even opt to archive client contact information and communications for ease of reference in the future.
CRM and contact management: Send each client query or request to a contact repository, making it easier to follow up with them.
These plugins create an appointment website capability for WordPress and Wix, letting you maximize the potential of each client relationship and turn lukewarm site browsers into enthusiastic new customers.
Accept appointment bookings via Paypal – booking and payment in one convenient flow
Vcita appointment scheduling system do more for your business than give clients a list of available appointment times. `It also let your clients pay and book services or appointments with you in one seamless flow.
Accepts bookings and invite your clients to pay on your social channels.
Is your Facebook page gathering followers quickly while your new website is taking time to draw traffic? Let your client pay for services with a 'pay now' button on Facebook. Vita can easily be integrated into your social media outlets, maximizing your exposure to potential customers.
Let clients book and pay with Paypal, Square and other payment gateways.
Let your clients pay for your service in advance and avoid no-shows and cancellations. Vcita accepts a wide range of the most popular online payment apps, fx. Paypal, Square and Stripe, which makes it flexible for your clients to pay for appointments with their preferred payment method. 
Flexible and convenient booking experience. Every business is different. If you operate a tattoo parlor, your customers will expect a different booking experience than they would for a coaching business or small restaurant. With vcita you have the ability to add pictures of your services or desired artworks.
Examples of appointment scheduling websites built with vcita
The best way to illustrate the advantages of scheduling software is to look at some practical examples.
This nail salon appointment website has a minimalist pastel theme that emphasizes the modest luxury of its services. The booking button is in three prominent positions:
The introduction screen. In this location, returning customers who are already familiar with the salon's services can book an appointment.
The services page. New clients or existing ones who are checking out any new treatments can book on the spot.
The contact section at the bottom of the page. Clients curious about the salon's address can book an appointment after confirming that it is in a convenient location.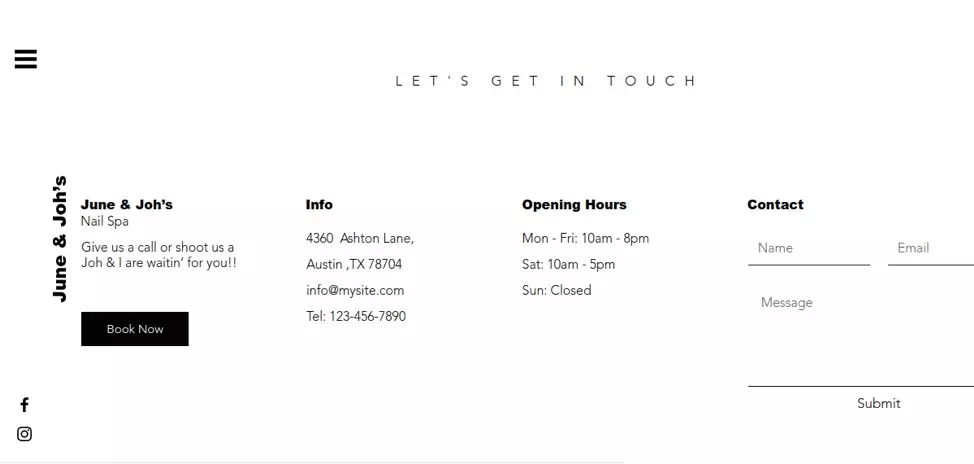 This coach appointment scheduling website follows a similar approach. The pastel colors and nature theme send a message of acceptance and positivity while the 'Book Now' button is at all locations there a visitor could be inclined to schedule a session. In this case, the top menu is fixed in place so that the button remains visible as the visitor scrolls.
When you run a client-based business, the right website takes all the work involved with scheduling appointments and meetings out of your hands and lets the clients take the lead.
You'll reduce no-shows, rebound more quickly from last-minute cancellations, and build the brand loyalty needed to keep your momentum going.
Learn more about scheduling
Learn more about vCita's scheduling app. Let clients schedule appointments with you on the go. Read more here →
5 tips on how to coordinate schedules with clients, employees or business partners. Read more here →
Review and comparison of best schedule maker tools for college students, professors or gym professionals. Read more here →
Review of the 10 best scheduling apps for salons, fitness trainers, business coaches, home services and Real Estate. Read more here →
Over 2.5 million appointments have been scheduled with vCita
"Our clients can book appointments online instead of procrastinating until the last minute. It saved us at least 150 hours of phone calls and coordination during tax season, and has changed how we manage our clients and our time."
Effie Bar-Caspi, LL.B
"vCita is one of the smartest business decisions I have ever made. I regularly receive appointment requests, and can manage conversations with multiple people using my mobile phone and mobile app."
Cyrus Khambatta, PhD
"vCita is easy to use, client-centric and it looks great on mobile – which makes ShopKeep look good. And, vCita goes the extra mile to ensure the software is easy, comfortable and right the first time. It's been key to our success in sales."
Brandon Bernard Jones
Ready to get twice as many appointments in half the time?
We're here to help you set everything up!
Call us at +1-855-824-8244